I signed up for the Birchbox subscription since I had received an email telling me I had to act quickly. I had did a bit of research to see if I really wanted to sign up for this one, but everyone had different views. It was really a 50/50 on who liked and hated their subscription. So since it was pretty much even I just decided to go for it. I just received my first box today! Here is what I got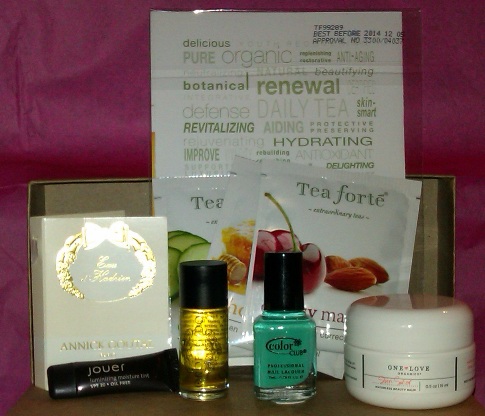 Annick Goutal- Inspired by Tuscan citrus groves, this bright scent features a winning combo of lemon, grapefruit and green mandarin notes.
I sampled this perfume and I really did not like it. It was too citrus-y of scent.
Color Club- Age of Aquarius
Jouer- Luminizing moisture tint
One Love Organics- This all-natural two-in-one cleanser and moisterizer is completely free of fillers, which means it's extra concentrated and extra effective.
Orofluido- We don't know what we love more-this hair treatments trio of nourishing essential oils (argan, linseed and cyperus)-or its intoxication vanilla amber scent.
This really does smell good.
Tea Forte- A mega-antioxidant tea that tastes amazing and helps our skin look more radiant.
Flavors received: Cherry Marzipan, Honey Yuzu and Cucumber Mint.
For my first box, I'm happy with what I received. I'm really interested in 4 out of the 6 samples I received, which is the tea, nail polish, One Love Organics and Orofluido.