I was really excited when I opened my VoxBox and found the imPress Press-on Manicure by Broadway. I had always seen these at my local drug stores but never thought of buying them only because I do prefer to do my own nails At the same time I've seen the cute designs that are available with these press-on manicures.
Here is what I received and my review
Color 060 Stiletto
Product description from my Mom VoxBox card
imPress Press-on Manicure by Broadway Nails: $5.99-$7.99
Featuring advanced nail technology, now you can get a salon-perfect manicure in seconds-simply peel off, press on and you're done. There's no drying, a killer shine and a manicure that lasts up to a week! Available in 36 colors and patterns.
After I took a closer look at what I received I knew right away these were not going to fit my nail beds but didn't want to just put them aside. I still wanted to size them up to my nails hoping they would all size up and match. Unfortunately that did not happen, the only ones that really matched up was my ring finger and my pinky finger.
Take a look at how extremely short my ring finger is and how the nail had fit on my finger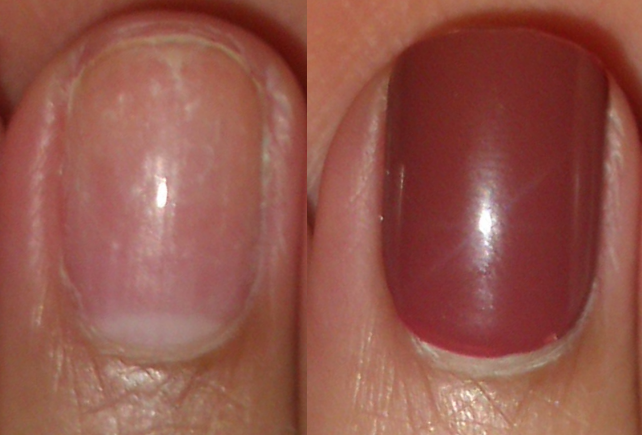 Here's a look at how the my thumb looked with the biggest size nail
As you can see the press-on nail was just a bit shorter than my nail bed. In order for this to have had a better fit I would have had to cut my nail down to the skin which I do not want to do. Another thing I did not like was that no matter how much pressure I used to press the nail down it still had a bit of a lift as you can see in the picture. Now please remember this is just how it worked for me, this is my experience. If you have smaller nail beds than I do it will probably work great for you. I am disappointed that this just did not work for me and also the prep pad that it came with to wipe your nails before applying the press-on nails was dried up. I would love to see these nails to come in more sizes so we could all enjoy these nails.
If you are interested in learning more about imPress Press-On Manicures by Broadway you may do so by going to:
Website:
BroadwayNails.com
Twitter:
@

BwayNails
Facebook:
BwayNails
Join the twitter conversation:
#imPRESSmanicure
Disclaimer- I did receive this product complimentary through Influenster's VoxBox program to test and review. This review is my own honest opinion.