I'm just going to jump right into this post. I got my Target Beauty Bag this morning and here is what I got.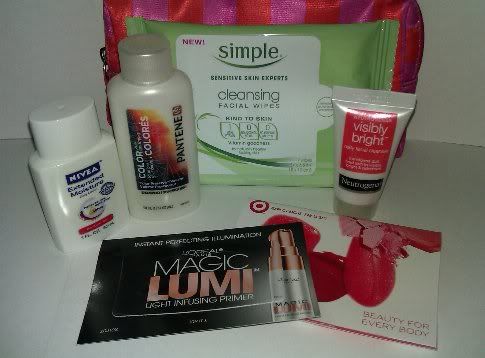 Simple Cleansing Facial Wipes
Neutrogena Visibly Bright daily facial cleanser
Nivea Extended Moisture Lotion
Pantene shampoo
L'oreal Paris Magic Lumi light infusing primer sample
and finally some Target coupons. Oh and the makeup bag it came in!
If you have a facebook you can go like
Target Style
and keep an eye out because they will be doing a summer bag giveaway!
Since I've added to my nail polish collection had asked my mom to pick me up some nail wheels (if thats what they are called) so she pick up 5 of them for me and they were only $0.99.
Some more ramblings.....
I finally decided to cancel my Birchbox, after seeing all the posts of what people got in their MyGlam bag, I wanted it! Seriously I was more excited to see what people were getting in their MyGlam bag than I was to see what was in my Birchbox and I only got two boxes. I'm excited to get my first bag later this month!!
Lastly the results of my little poll that I had going on the side is....
Pretty close between makeup and polish but polish won!! So because it won I have a new poll going on, so go have fun and vote!