A while back I had found a video on You Tube on how to do your own french manicure, which has really helped me and I truly say that after trying this I love how my own nails came out. Before I would try to just paint the tip of my nails but I could just never get it right and after trying over and over again I would just get frustrated and remove it. So when I found this video of course I was happy and I finally gave it a try today. I don't know about you but I do not have a steady hand so that is why this really helped. If you wish see the video here it is and it's a video by
sccastaneda
.
Here is what I used:
Jordana White Polish
Nailene Top Coat
ELF Eye Shadow Brush #1815 (Target $1)
Nail Polish Remover
Small Container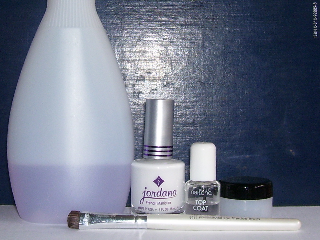 Final Result
Showed both hands because I'm right handed, just so you can see how pretty much even they are, pretty good huh? I know they are not perfect but I loved how they came out.
So today I went to a store called 123 Dollar Stores and I bought the two Jordana nails polishes above and also found what looked like a big match book but it was a file book and it has 24 mini files that just break off. As soon as I saw these I just had to have them since I always make sure my nails are nice and filed at all times.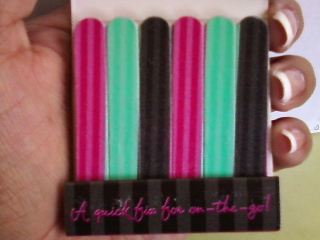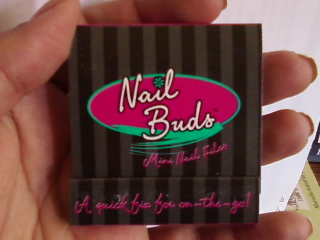 So what did you think of the video? Help any?