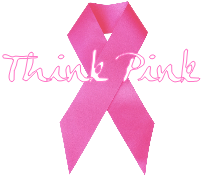 I'm sure you are all aware of that October is Breast Cancer Awareness month, right? Right! So I'm not only reminding everyone of Breast Cancer Awareness but showing support as well. Breast Cancer is something that has either taken or has been defeated by my family. Most recently my grandma was diagnosed with breast cancer and luckily it was caught early enough to tackle it, remove it and now she has survived this demon. I also have an aunt (my tia) who also was diagnosed a few years back and survived as well. There are aunt's of mine who also passed away from breast cancer many years ago. With me know of all this, I know I need to make sure I take care of myself and as soon as I am able to I need to get check, its never to early to start!
What else is going on in October?? Well yesterday I just had my son's 8th birthday party and it went really well. He had a Sponge Bob theme party and he had so much fun. It's so crazy that he is going to be 8 years old!! I remember in the beginning of my blogging where I was telling people that I was pregnant! Time sure does fly by but I'm loving every moment of it.
I know most people can't wait for Halloween but I myself don't really care for it. The only thing that I like about it is the candy and crazy make up and nail polish that comes out! So now, I'm just waiting for November...Why? You'll find out when that month comes.