Yesterday when I came home from work there was a package waiting for me right as I opened my door. Yay! It was my April Julep box!! This is my second my box and so far I'm loving this monthly subscription and I'll tell you why later below in the post.
First here is what I got: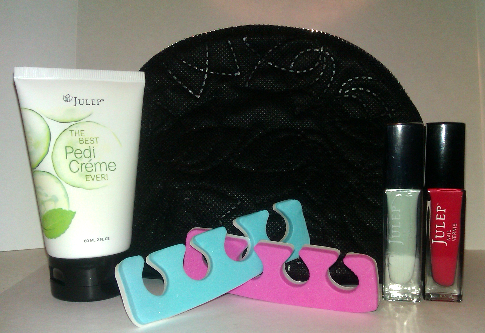 Best Pedi Creme Ever! ($22.00)
Nail Polish in Mandy ($14.00) and Susie ($14.00)
and as a welcome gift I receive a free makeup bag ($18.00). Oh and they threw in 2 toe separators and not pictures little chocolate eggs.
I received about $68 worth of products for around $20 is just not bad at all. Since I didn't really care for the BoHo box I opt to try the Classic with a Twist.
So here are my reasons why I like this monthly subscription:
1. They give you a preview of what you will be receiving so you are not surprised.
2. If you don't like the style you were categorized with when you signed up you can chose to try an another style. You get to preview every style for the following month.
3. If you don't like any of the styles you can simply skip a month.
4. Fast shipping! I get an email letting me know my box has been shipped and within 2 days its here!
I really like that with this subscription you are pretty much in control and if you are just completely dissatisfied with it you can simply cancel your account.
If you are interested in giving Julep a try click the link below ツ