Last week I shared with you all how I made my own nail polish rack but after making it I still had left over foam board. With the left over foam board I decided to make myself a makeup brush holder. I had a few brushes in a glass cup and the rest in my brush roll. Since my hubby bought me a desk for Christmas to use as my vanity, I'm still rearranging things and trying to figure out how I want things organized. So here is how I made my brush hold with my left over material.
1. Cut 4- 3in x 3in pieces and 1- 3 1/8 in x 3 1/8 in piece (highlighted the squares)
2. Hot glue all the 3in pieces to form a square and then glue the base using the 3 1/8 in x 3 1/8in piece.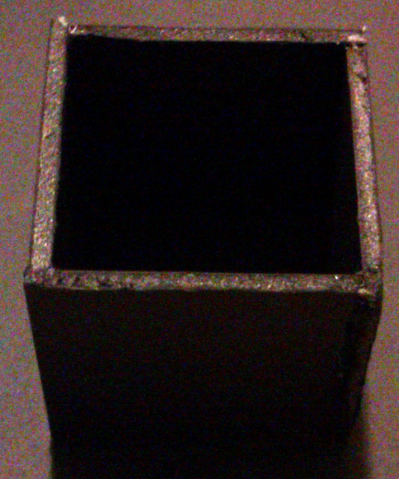 3. With my remaining duck tape I taped the around the sides the of the holder until the holder is completely covered.
4. (optional) I had black ribbon so using the ribbon which has a width of 1/8 in. I used it to go around my holder covering where the tape line was visible.

Here is what my completed brush holder looks like, please excuse my brushes I need to clean them. I wish I knew how to make a ribbon bow to put in the center.
This is just something I'll use for now until I find something else I like.