Before you read this post, what do you think of my new blog look? I've been wanting to change it and the banner as well but just couldn't figure how I wanted it. I think this design suites me and I love the teal and black combo!
This post is actually going to be a review of two primers I picked up at Target about a week ago (which I shared in my last post). I usually use the UDPP because I love it so much, but I'm starting to run out and I need to save money. So as I was at Target I went down the makeup aisles as I always do and saw that both E.L.F. primers were sold there, I had never seen the primers there before. I picked up the primer from the regular line and the studio line. E.L.F. is extremely affordable to purchase so buying both of them did not break my wallet. Here is what they both look like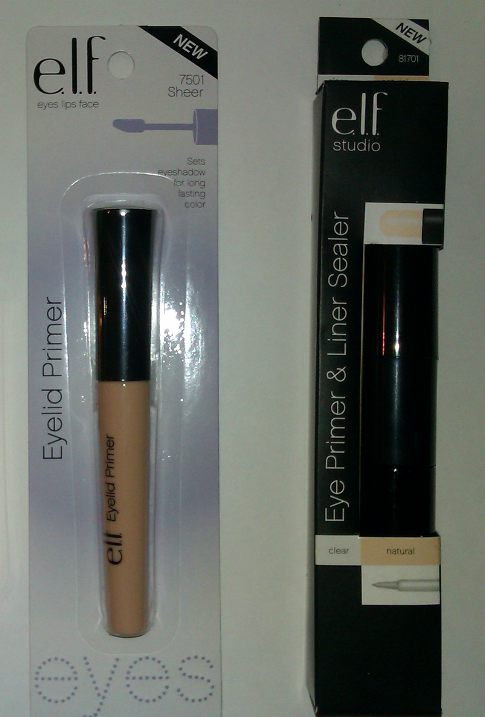 Here are each of the descriptions of the products taken from the packages w/ prices.
Eye Primer and Liner Sealer (studio line) $3
Gives you lasting eye color that won't smudge or budge!
Eye primer sets your eye shadow so it won't fade, bleed or crease.
Primer works like a lipstick, you just rub it on your lid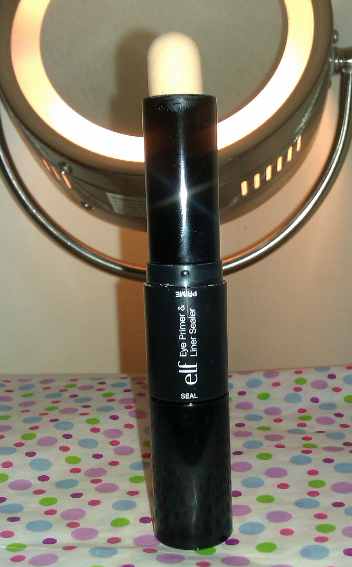 Eyelid Primer $1
*
Preps your eyelid for smother, longer-lasting, crease-proof eyeshadow
*The ultra sheer, nude color works to increase eye color longevity.
*Lightweight liquid formula quickly absorbs into skin for comfortable wear.
Primer has a wand applicator that blends easily on your skin.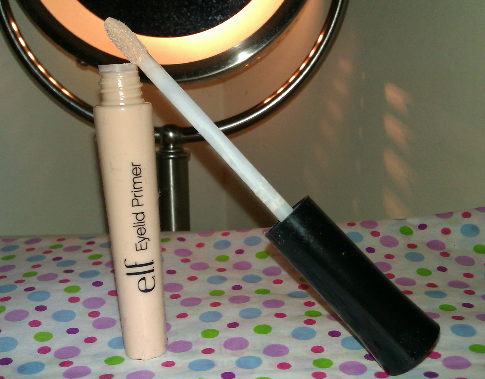 Both of these primers are easy to use, blend easily and are both nude/sheer colors. Honestly when I picked up both of the primers I automatically was expecting the studio line to work better than the regular line one but thought I'd give both a try. I've been using both of them for the past week and took before and after pictures of my makeup. Each of the pictures have the before on top and after on the bottom. Now just let you all know my opinion is based on my skin type which is oily so what may or may have not worked for me maybe different for you...ok so here we go.
This first picture is using the studio line primer
As you can see even in the before picture the eyeshadow was already starting to crease on me. This primer is more creamier and even after applying the primer and before putting my shadow on I noticed it starting to gather in my crease. My shadow did not last all day and pretty much melted off by the time I got home. This was a big disappointment for me since I was anticipating on this primer to work.
Here is the primer from the regular line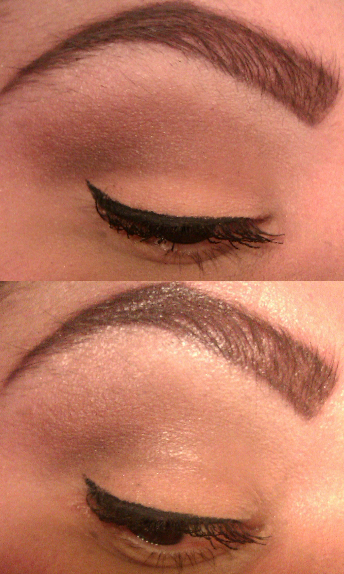 I'm sure you can see a difference from both of the primers right away! I noticed with one, it actually blended well just like my UDPP, very easily and smooth. Even with this primer when applying my shadows I noticed is grabbed the color a lot better than the studio line, which I think is a major plus. As you can see in my after picture the eye shadow is still there and visable!!! Yes there is a slight crease but nothing to major and the color did not fade as much as the studio line. I was completely surprised that this one worked better than the studio line as is $2 cheaper, seriously what a deal!
As I said before in the begining I love my UDPP but when going to work I dont really want to use a $20 primer, I rather use something more affordable that works well. So right now while I'm on this tight budget my E.L.F. $1 Eyelid primer will work just fine (unless I find another affordable primer) and I'm pretty satisfied with the results of it. I wont be using the studio line anymore and it will probably just tossed aside.
Have you tried either of these primers? Which one works better for you? Are there other affordable primers you've tried that you would recommend?
PS Don't forget to enter
Jessica's
Giveaway!!