I'm so excited to finally have this type of nail design!!! As soon as I saw these galaxy nail designs I just feel in love with them! I just haven't had to change to give a try because it looked so hard, but thankfully I came across a blog call
Polish and Pearls
which had an each tutorial on how to create this awesome design!!!! Here is the page that will take you directly to the tutorial page:
How To: Galaxy Nails!!!
Now to share how my galaxy nails came out....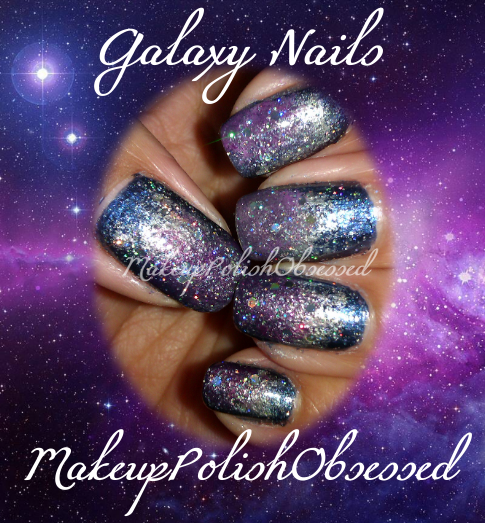 Here is the video I used to follow if you did not click on the page.
This is not my video, this belongs to Polish and Pearls aka MissJenFABULOUS
What I used
Left to Right
Sinful Colors Purple Diamond
Jordana Hypnotizing
China Glaze Techno
Orly Shine On Crazy Diamond
Art Deco Silver
Finger Paints Art You Blue?
and not pictured is the eyeshadow sponge applicators I used to sponge on the colors.
The steps are easy
Used Art You Blue? as the base color
sponged on the Silver anywhere you want on the nail
sponged on Hypnotizing towards the Silver
Used Purple Diamond to blend the colors where they meeet
Used Techno to give a "big star" effect
Topped it of with Shine On Crazy Diamond for the never ending twinkling stars effect
Add a top coat!
I'm pretty satisfied with with how they came out since this was my first try, but I've found so many images of Galaxy Nails and they are all so different. So its really up to you how you want your galaxy nails to look and what colors you want to use.
Here are more pictures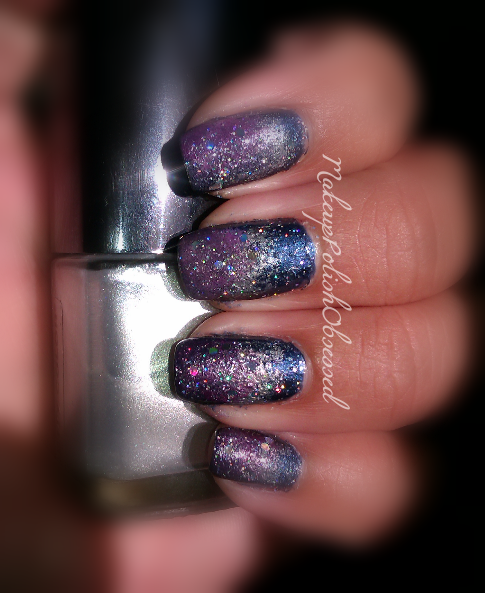 and a blurry picture to see the never ending twinkling star effect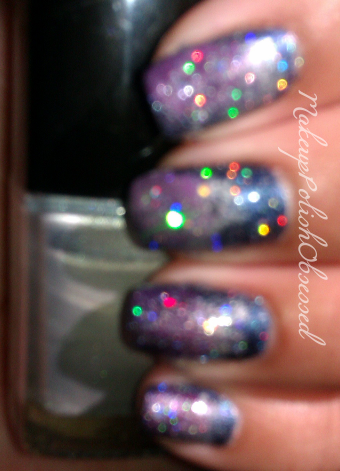 So have any of you given this nail design a try? If not, will you? Well I hope you all enjoyed this nail design!!