Here is another first ever! First time I ever been tagged in an awarded blog post and I just wanted to thank Jessica for tagging me and acknowledging my blog! You all should check out her site she has a great blog ->
PassionStarButterly
.
Here are lovely awards received by
PassionStarButterly
(thanks again!):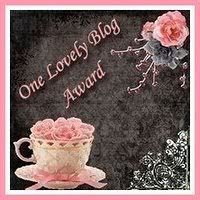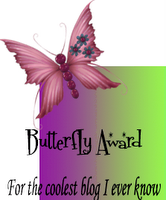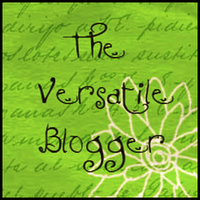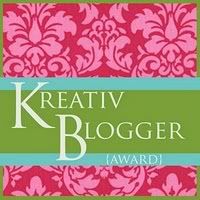 Now here's what I must do:
1. Thank the person that gave you the awards, and link back to them.
2. Post seven things about yourself.
3. Pass the love to 15 bloggers.
Seven things about myself:
1. I'm married and have one son.
2. I am a Christian
3. I absouletly love the Christmas season
4. I'm a shy person which makes people think I'm stuck up when they first me, but really I'm a nice person.
5. I hate the heat the only good thing about summer is that I get to go camping and love 4th of July.
6. I dont drink, smoke or cuss.
7. I'm usually the person my friends come to when they need advice, which I have very few of.
Questions
Name your favorite song: Lead Me to the Cross by Seventh Day Slumber
Name your favorite dessert: Frozen Yogurt from Yogurtland!
What pisses you off: Liars, people who dont know how take care of their responsibilities, and much more.
When your upset you: I don't like to be bothered.
Your favorite pet: Dogs
Black or white: Black
Your biggest fear: Loosing one of my loved ones.
Best feature: I'm not sure, lol.
Everyday attitude: Trying to stay positive in knowing God will take care of everyting that I put before him.
What is perfection: God and My family
Guilty pleasure: twitter, YouTube, blogging, makeup, nails. (All things hubby hates lol) <- same exact answer lol.
Share 7 random things about yourself
Fave color? Black, Pink, Purple, Blue, Bright Turquoise
Fave animal? Dogs
Fave number? 19
Perfume I am wearing? None at the moment
Something that identifies me? My Faith
What is my passion? To be the best mom and wife as possible and eventually hope to be a youth counselor to teenage girls who are going the same thing as I did when I was a teenager to help find a way better than where they are heading.
Would you rather get or give presents? It's more rewarding to give than to receive but of course receiving is not bad either, lol.
What was the last eyeshadow you wore? Wet n Wild's Comfort Palette with the Vanity Palette.
Favorite day of the week? Friday when I get out of work
Are your nails painted now? Yes, OPI Tickle my France-y.
Passing on the love on to other Bloggers:
http://www.mercedesmakeupobsession.com
http://www.glamorousbutterfly.com
http://www.lipglossgossip.com
http://www.makeupbyjyz.blogspot.com
http://www.mypinktasticlife.com/
http://www.stephanielouiseatb.blogspot.com
http://penelopeamor91.blogspot.com
I hope you all enjoyed this tag!