With the weather getting colder, nights getting longer and with Christmas around the corner, nothing beats a night of hot chocolate! But why not make drinking hot chocolate a bit festive and fun for the kids (if you have any)and for us adults? Here is what I did for my son last week and his eyes lit up, lol. He's now always asking for me to make it for him.
Here is what is use: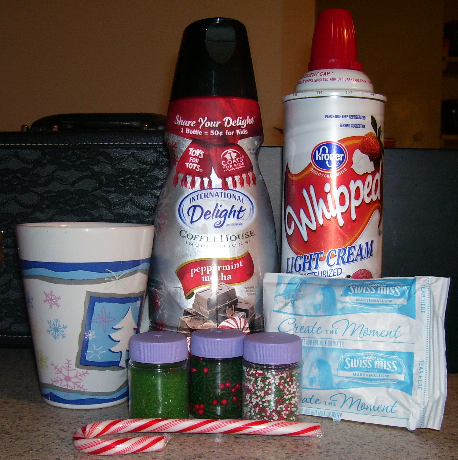 Items Needed/Used:
Favorite Christmas cup
1 Pack of hot chocolate (we use Swiss Miss)
Whipped Cream (light or heavy)
International Delight Peppermint Mocha Creamer (Coffee Mate has Peppermint Mocha too)
Candy Cane
Cookie Sprinkles (preferably Christmas colored ones to make it festive)
What to do:
Of course you make your hot chocolate as you normally do but make sure to leave enough room to add the creamer.
Once you made your hot chocolate and added your creamer to your taste, then simply add as much whipped cream to the top.
Next add as much sprinkles as you want to give your hot chocolate a "Festive" look.
Then add the candy cane in the cup.
Finally enjoy!!
Here's what the Festive Hot Chocolate will/should look like: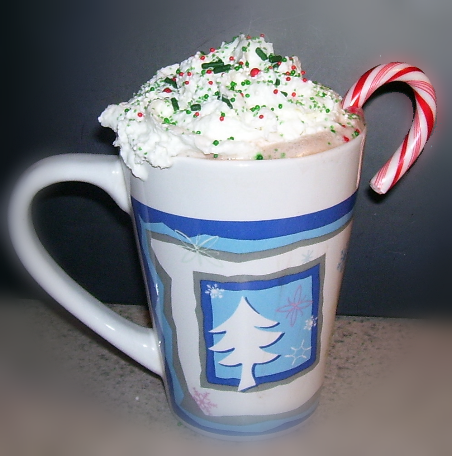 See, its Festive and Fun for the kids to enjoy. It's so good even us adults will enjoy it as well!! I know I do!Give it a try and enjoy while watching some Christmas movies!!