I want to share a part of my personal life with you all and this is a personal part of my life I don't mind people knowing.
As most of you don't know my husband I have been together since Nov 10,2000. We had met in April of 2000 about 2 weeks after my 18th birthday and became somewhat friends. We only talked to each to see how we were doing and what we were up to and that was it. Around Sept we had start to talk even more on a daily basis for hours at time. During all this I honestly had a feeling that he was "the one". Then Nov 10th I had invited him to my cousins Homecoming party and on that day we became boyfriend/girlfriend! Yes, we did fall for each other fast and were always with other on the weekends and were inseparable.
One year later, Nov. 2001, after I graduated high school he gave me a promise ring. The promise ring was his promise to be committed to me and that we would one day get married. About 2 months later, Jan. 2002, I became pregnant but I did not know I was till a few months later (bit of story). Our son was born Oct 19th,2002, which was one of our happiest days!
One year later Christmas morning in 2003 he proposed to me with this Precious Moments figurine(he knows how much I love collecting Precious Moments).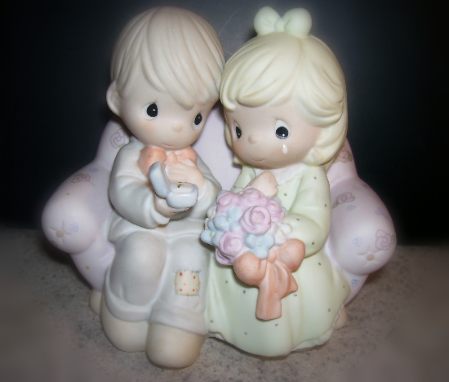 The name of figurine is "Say I Do", so cute and of course I said yes!! When deciding our wedding date we wanted it to be close to the date of when we got together. Since Nov 10 had landed on a Wednesday the following year we decided to make it Nov 13th. So we got married on Nov. 13th, 2004 at the age of 22.
Till this day we are still inseparable and still madly in love like we're teenagers. He even does the simplest things to show's he loves me, one is by posting those little Love Is comics on my facebook page. Here is a recent one he posted on Nov. 10th.
He included this bible verse, "Find a good spouse, you find a good life— and even more: the favor of God!
Proverbs 18:22" To me it's still those little things he does that just brighten up my day!