(Long Post and picture heavy)
Wow I can't believe how fast IMATS just came and went for me. I had went to IMATS yesterday with my cousin and her little girl and it was so much fun. We had got there around 7:45, about 45 mins before the doors open. When we had got there the line was already wrapping around the building but even though it was we weren't that far behind from the beginning of it. So anyways after all the line waiting, make that 2 line waitings, we finally got it! My cousin and I already had it planned it out what we wanted and where we wanted to go and where the booths were located. Since we had got there so early the isles weren't even crowded so we were able to get in and get out. One thing I did notice was that once the crowd got bigger it still wasn't as bad as last year, and this year's Saturday even sold out.
Now onto what I want to share with you all what I actually bought and what free goodies I received. I didn't buy much because Urban Decay and Benefit didn't have what I wanted, plus some of the money I had saved had to go somewhere else.


First are my freebies
The first thing while standing in line they had these Square Card Readers which I think is extremely cool if you have a small business or if someone owes you money and they dont have cash.


Coastal Scents had this little game where you can win a 4 piece brush set, a nail polish or an african soap. I won a nail polish!! They only had 4 to choose from and I picked Azalea!


Sigma Booth
I was really thinking about getting brushes this year but I already have enough but they were giving this out..
Its an E05 Eyeliner brush!!!!
Marinello Booth
They had some random goodies
Tote Bag
Lip gloss and this little container with brushes
Swatch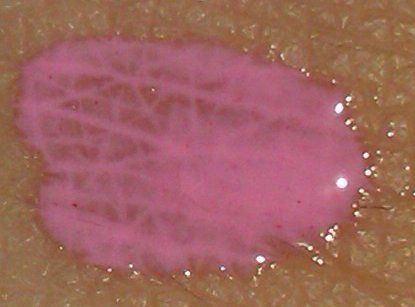 Closer look at the little brushes


Random Goodies
Bumper Sticker!!! I told my hubby I'm going to put this on the car and he looked at me like I was crazy lol.
Here is what I bought from BH Cosmetics
88 Neutral Palette $12.00 orig price $24.95 and on sale $16.22 right now.
BH Cosmetics were giving out goody bags (worth about $26 each) and they gave me 2!!!
1st one
2nd one-this one also had a brush but I gave it to my mom.
Each bag had lashes, lip gloss, water proof lip liner, gel liner and an angled brush.

Swatches from the lip glosses and lip liner
Next and final booth I bought from was NYX Cosmetics
Pore Filer $8.50 orig price $13.50
This Pore Filer I'm dying to try out and see if it really works. I notice my pores on my cheeks closer to my nose are pretty visible.
Eyeliners
Candy Glitter Liner $2.00 orig price $4.50, Studio Liquid Liner $3.50 orig price $4.50
I'm such a sucker for rainbow glitter now, its my current obsession.
I got the Candy Glitter Liner in Disco Ball, Studio Liquid Liner in Extreme Purple and Candy Glitter Liner in Disco Queen.
Swatches
This is all pretty much of what I got and I even though I didn't buy much I did get a good amount of free stuff.
I also wanted to share with you all what I came across on Twitter from Makeup Artist Magazine
What?? IMATS is going to be in January instead of June??? That's 7 months away!!! So girls get ready to be there again in a few months!!